A Royal Wedding: The Duke and Duchess of Sussex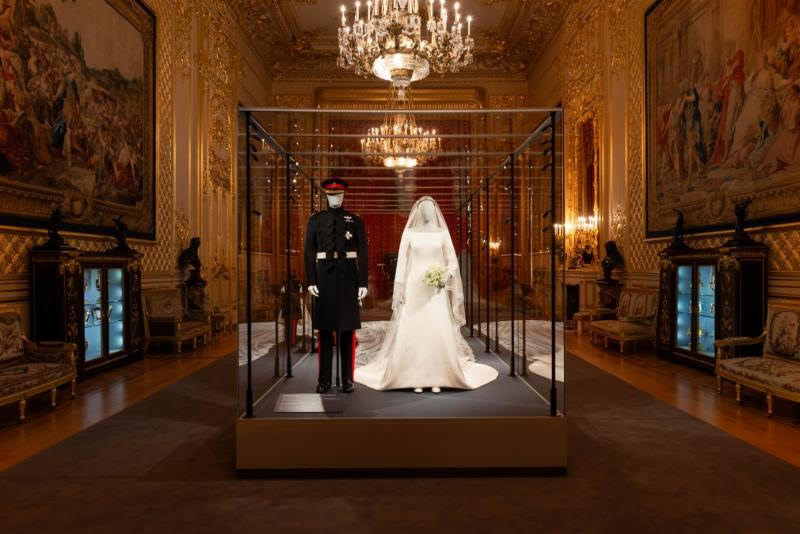 The royal wedding dress and Prince Harry's uniform will be displayed in a special exhibition at Windsor Castle. Admission to the exhibition is included in the price of a ticket to Windsor Castle, along with entry to the magnificent State Apartments, St George's Chapel and the Semi-State Rooms (winter months only).
Until 6 January 2019, A Royal Wedding: The Duke and Duchess of Sussex forms part of your visit to Windsor Castle. This special exhibition features the wedding outfits worn by the couple at their wedding in May 2018.
"We knew how large the scale of the event would be, so in making choices that were really personal and meaningful, it could make the whole experience feel intimate." – Her Royal Highness the Duchess of Sussex
In the setting of the Grand Reception Room, The Duchess of Sussex's wedding dress will be displayed alongside The Duke's frock-coat uniform. Also displayed will be the outfits worn by Their Royal Highness's Prince George and Princess Charlotte in their roles as pageboy and bridesmaid.
Don't miss this special opportunity to view Royalty!
Let's get started on your tailor-made tour!
Scottish Vacation Packages | England Vacation Packages | Wales Vacation Packages | Ireland Vacation Packages | British Isles Vacation Packages