Britain and Ireland Winter Christmas Festivals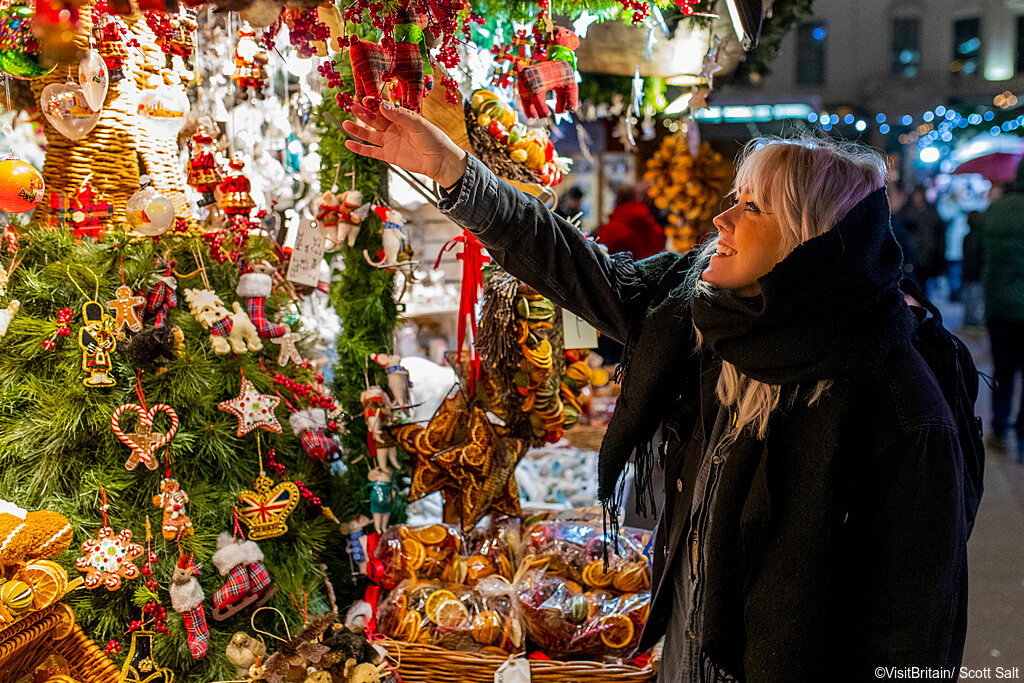 The holiday season is a wonderful time to vacation and to learn, first-hand, how other cultures and countries celebrate Christmas. Throughout Britain and Ireland, you'll find holiday markets, winter festivals and Christmas events to get even the Grinchiest of us in the holiday spirit! From extravagant decorative displays to holiday themed events, there are activities to suit everyone in your family. To give you an idea of how Britain and Ireland celebrate the season, we have included a few events here. Interested in a vacation during the holiday season? We will customize your vacation package to include unique holiday events that even Santa would envy!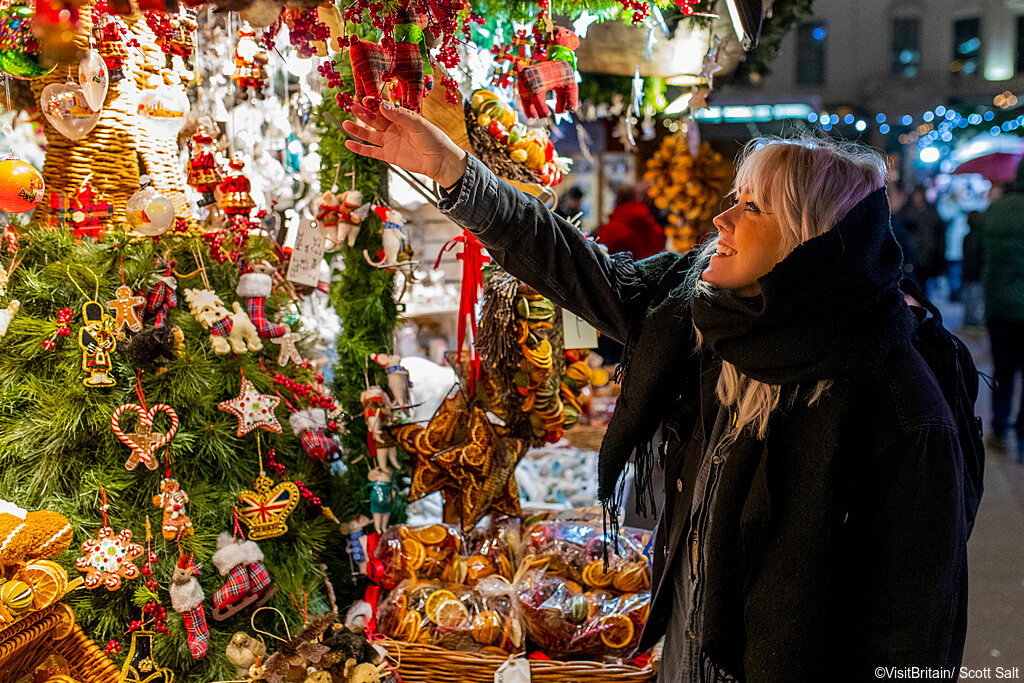 London, England – Hyde Park Winter Carnival
London, England is a magical city to visit during the holidays, and the Hyde Park Winter Carnival is a great stop on your vacation. Home to the enchanting Winter Wonderland carnival, it is filled with plenty of festive cheer. During the day you can browse the Christmas markets to purchase holiday keepsakes and visit the many food stalls. The young at heart will be entertained by the rides, attractions, and a visit with Santa. And, everyone can appreciate the ice-skating rink and live performances. When the sun sets, stay to watch as the park transforms with sparkling lights into a magical winter wonderland. After a day at the carnival, let us fill the rest of your London visit with personalized activities such as Afternoon Tea in a luxury hotel, private behind-the-scene tours, and fantastic entertainment.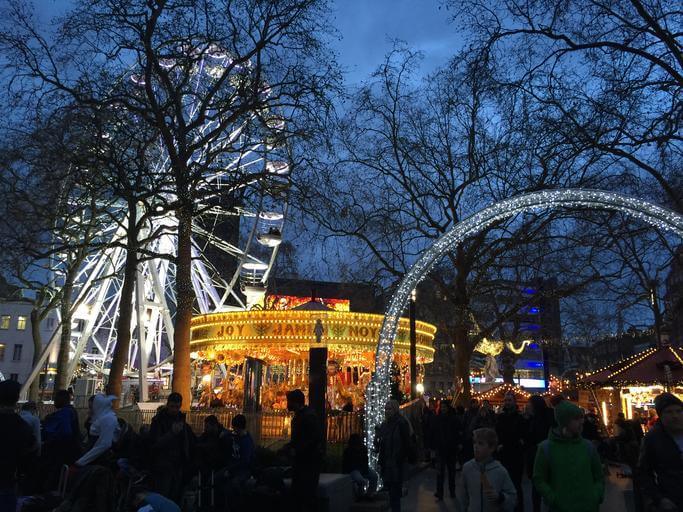 Cardiff, Wales – Winter Wonderland Festival
When visiting Britain, don't forget about Wales! Cardiff is the capital city and home to its own Winter Wonderland festival that includes a two-story bar, indoor ice skating rink, Alpine ice skating trail through the festival scenery, and so much more! Stick around for the many other seasonal activities that take place throughout the city. Make a stop at Cardiff Castle where you can take a tour of the castle led by Santa, himself, who will share with you how Christmas was celebrated in Victorian times. It's a great way to combine holiday festivities with local culture and history!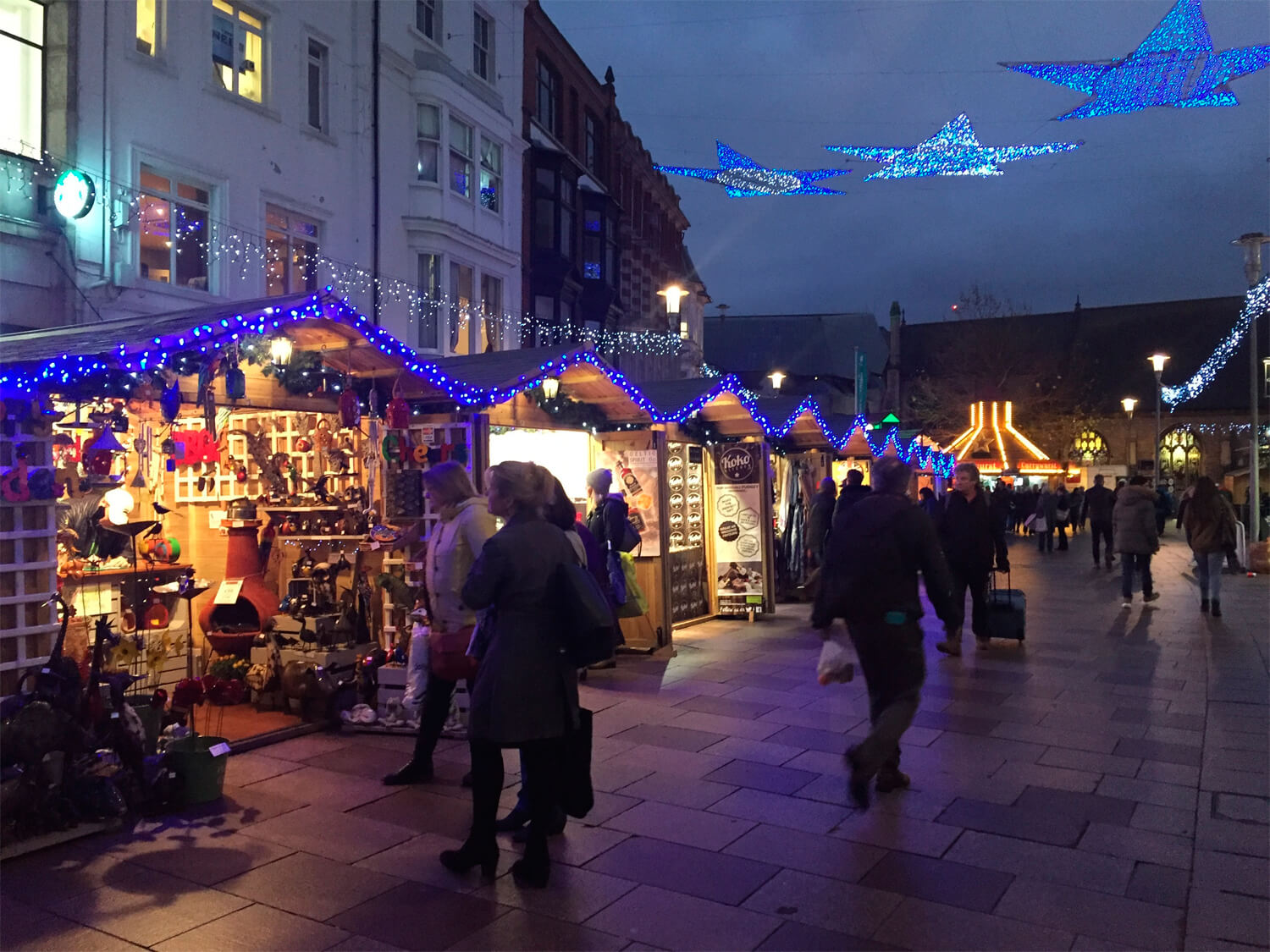 Edinburgh, Scotland – Edinburgh's Christmas
It is no wonder that Edinburgh's Christmas is such a popular event. The city has worked hard to become the world's leader of festivals. Many large-scale events are held throughout the year that attract millions of visitors from all over the world. Edinburgh's Christmas is no exception to the amazing festival lineup. As with many of Edinburgh's festivals, events for the merry season are spread throughout the city, making it a great way for you to explore more than just the Royal Mile. During the day you can relish the historic architecture and at night stroll the streets to see the extravagant holiday decorations. Vacation planning is easier too since you have six weeks to enjoy festive performances, ice skating, boutique markets, and carnival rides. Stick around for Hogmanay and take part in the street party of a lifetime!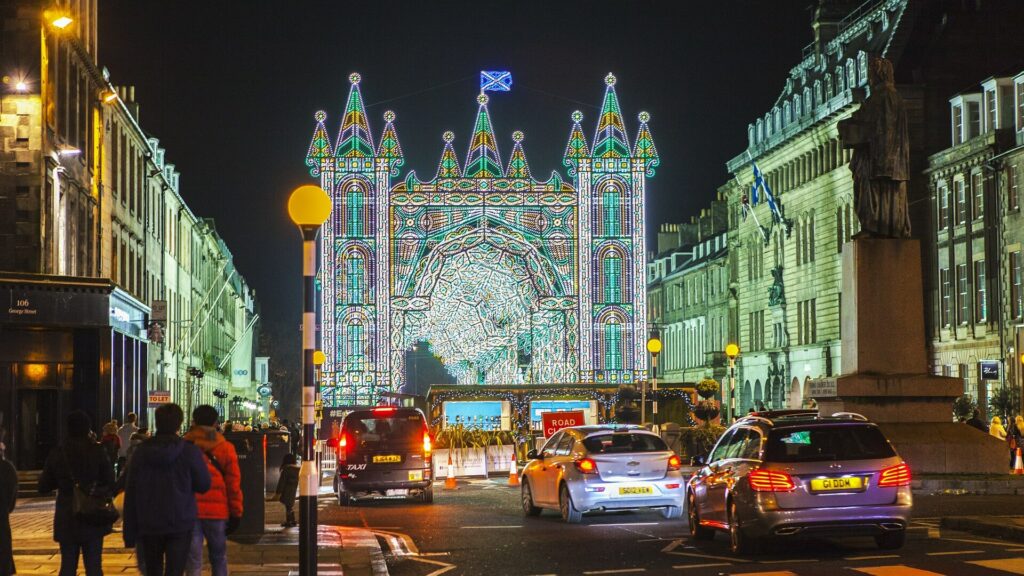 Galway, Ireland – Galway Christmas Market
Christmas is a magical time to visit Ireland. When in this beautiful country, we suggest that you explore Galway and attend the famous Christmas Market that extends over four weeks. The event takes place in the city's 18th-century Eyre Square where you will find amusement rides, live music performers, artisan food stalls, and enchanting light gardens. After enjoying the festivities, explore the surrounding shops and traditional pubs that often offer live Irish folk music. Then, stroll along the winding lanes to find stone-clad cafes, boutiques, and art galleries along with remnants of the medieval city walls.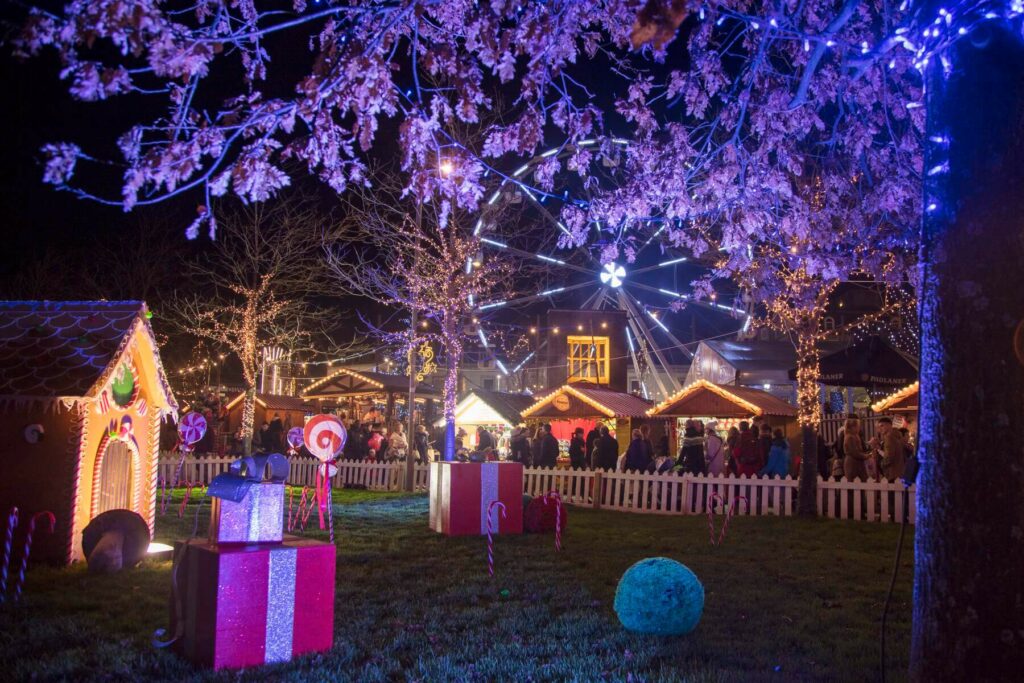 Belfast, Northern Ireland – Christmas Markets
Visiting Ireland? Don't forget to visit Northern Ireland, too, and the capital city of Belfast. Make a stop at the Belfast Christmas Market to enjoy local and international delights while marveling at the gorgeous fairy lights, Christmas tree, and Belfast City Hall. Spend an additional day in the city to explore the famous Titanic Belfast and enjoy a traditional Christmas Afternoon Tea.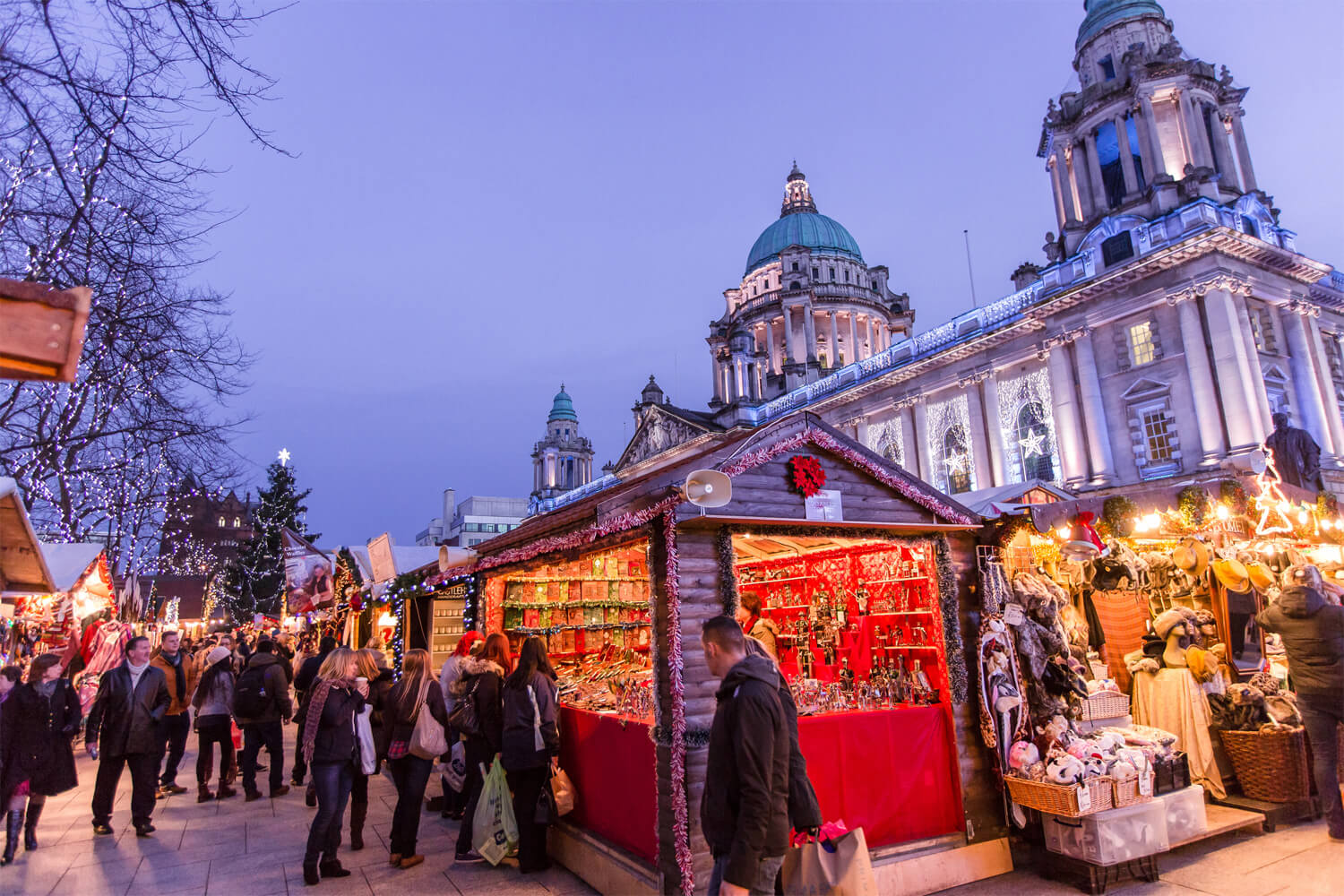 While many locations are closed this year due to the coronavirus pandemic, it's a fantastic time to start dreaming of your 2021 holidays. Plan now for celebrating this very special time of year in one or more of the above mentioned cities. Because, "It's beginning to look a lot like Christmas… EVERYWHERE you go." We can start planning your 2021 holiday vacation package now! Just contact us at 310-791-6101 (PST) or request a quote through our online form. We look forward to planning your magical holiday vacation!