Forget Paris… This Irish City Has Love in the Air… and Church!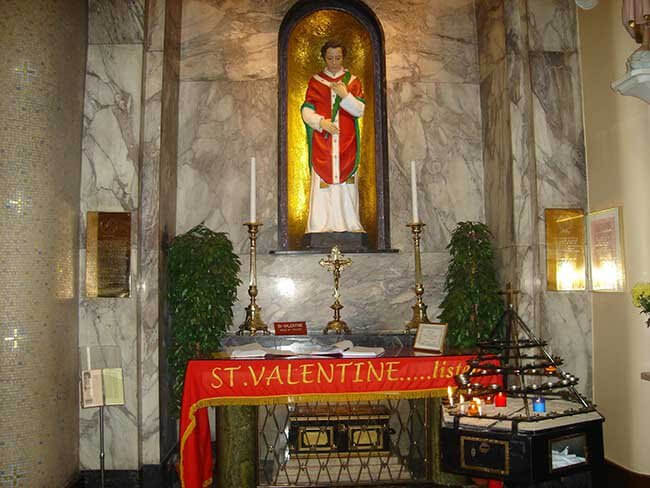 Everyone knows that St Valentine is the patron saint of love; but did you know that his remains are housed in a small church in Dublin? Not a lot of people know that, amidst the hustle and bustle of this capital city, the remains have been there since 1836 and can be visited on a daily basis.
As you can imagine, the normally sleepy chapel of Whitefriar Street Church in Dublin is especially popular on the Feast Day of February 14th, when people visit to pray to Saint Valentine, asking him to watch over their love lives. Many couples also come here to get their wedding rings blessed.
In addition to romantic love, Saint Valentine is also the Patron Saint of beekeepers, plague, epilepsy, and protection against fainting!
An Irish Carmelite named John Spratt was gifted with the remains of Saint Valentine by Pope Gregory XVI. The Pope housed these remains in Dublin's Whitefriar Street Church. When Spratt died, the relics were put in storage and remained there until the church underwent restorations in the 1950s and 1960s. It was then that an altar and shrine were created and where the remains still lie, watched over by a statue of St. Valentine carved by artist Irene Broe.
While the church does not claim to hold ALL of the saint's remains, the reliquary contains a sealed box with "some" of his remains, along with a vessel tinged with the holy one's blood.
While not exactly a box of chocolates or a dozen roses… it is certainly an interesting and unusual way to celebrate the holiday of love! (And beekeepers!)
Would you like to see Saint Valentine's resting spot? Call us today – we'll help you explore unique Dublin and so much more!
Call Across the Pond Vacations at 310-791-6101 today!
Learn more about our tour packages.