The New British and Irish Cuisine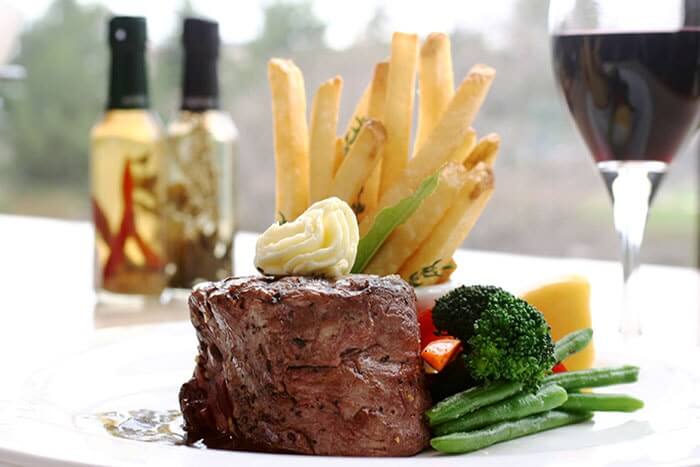 I'll bet what motivated the British to colonize so much of the world is that they were just looking for a decent meal.
–Martha Harrison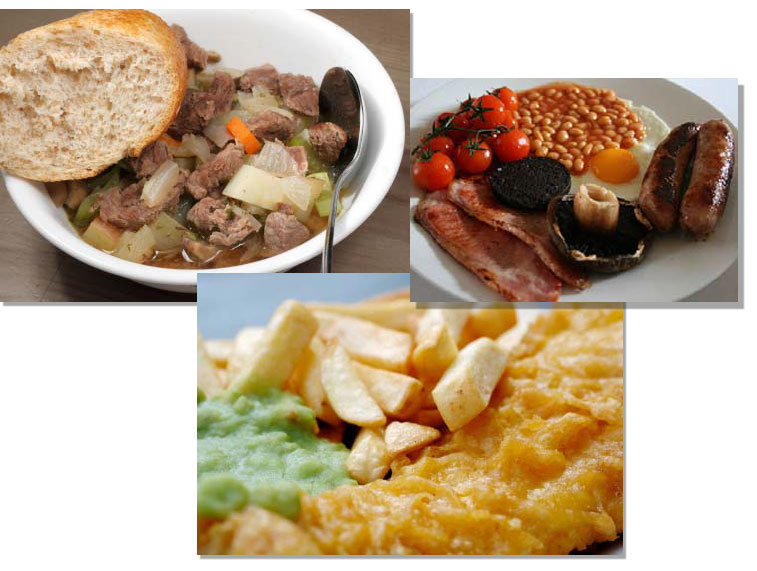 "Ye Olde Pub" was (and still is) the place for the "cheap and cheerful" favorites, such as Fish & Chips, Bangers & Mash, Bubble & Squeak and, of course, the Ploughman's Lunch (cheese, bread and a pickled onion on the side). Back in the day, restaurants often served up poor imitations of French, Italian or Spanish cuisine. It's no small wonder that British and Irish food had such a bad reputation.
But, oh how things have changed!
Food stemming from the British Isles now boasts beautiful local produce, fresh caught fish, wild game, and wines from around the globe. Chefs in England, Scotland, Wales and Ireland are concocting scrumptious new renditions of traditional British food, as well as crafting new and exciting dishes that will inspire even the most discerning palate. Thanks to celebrity chefs, such as Gordon Ramsay, Jamie Oliver, Nigella Lawson, Delia Smith, haute cuisine has become as popular an experience during one's British/Irish travels as visiting castles.
In Great Britain (England, Scotland, and Wales), food can be classified as "Traditional" or "Modern" British Cuisine, and both can be delicious!
Traditional fare is usually an even tastier version, now, of time-honored meals. On the economical side, one thinks of the aforementioned "pub grub" such as Fish & Chips Cuisine of the British Isles: The Gray Meat Is (Almost) Gone or Bangers & Mash. (Side note: today's most popular "British" food… Curry, which just goes to show how heavy the Asian/ Indian influence is in Britain.) On the more sophisticated side of the coin, traditional meals such as Roast Beef with Yorkshire Pudding or Beef Wellington remain popular favorites.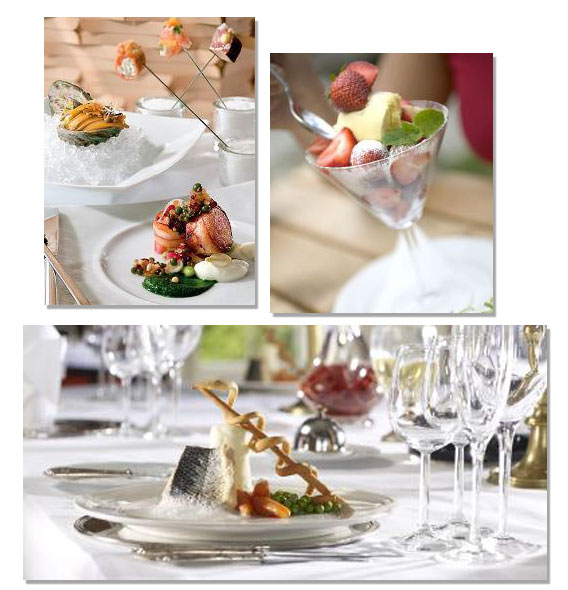 Modern British cuisine is a concept that opens up a whole new world and includes global influences such as Indian, Asian and European flavors. Culinary "hero-chefs" are being awarded Michelin Stars in praise of their gastronomic creations, and rightly so.
Irish chefs have a different challenge in that their desire is to produce recipes which not only make the best use of local produce but are discernibly Irish in style.
Such dishes include ingredients like River Oysters, Grass-Fed Lamb, and Fresh or Smoked Salmon (prized for its creamy flesh that ranges from pink to orange to deep red). Serve with Potato Pancakes; Dubliner Cheese, Leek and Cashel Blue Tart; and Crab & Champ Bake. (Champ is something you will find on many Irish menus. It is simply mashed potatoes, chopped scallions, flavored with nutmeg and fried in butter – yum!)
Then, of course, there is the Boxty (or bacstaí in Irish), the traditional Irish Potato Pancake. A Boxty can be eaten on its own fresh from the griddle, or filled with delicious meats, sauces, and/or vegetables. And, with Irish cooking, nothing goes better with lunch or dinner than a pint (or two) of Guinness!
If you aren't drooling yet, please, allow me to continue.
Let's travel to Scotland – home of the Fried Mars Bar. It has become a gastronomic trend in Scotland to "batter it and deep fry it." Such caloric intense creations include the aforementioned Fried Mars Bar, the Fried Snickers Bar, Fried Pizza, Fried S'mores, and yes, even Fried Beer (a feat very few can accomplish)!
Despite that lack in fat-filled judgment, the trend for healthier, local food (livestock and produce) has caught on up north, as well. The Scots are known for their love of meat. Aside from Haggis (an acquired taste, indeed), a good Scottish chef will know how to superbly prepare Angus Beef, Scotch Lamb, Wild Game and Wild Salmon.
Vegetarians, don't despair. Non-meat alternatives are readily available, as well, and are sure to tempt and tantalize.
In Wales, you'll also find traditional and modern cooking. Sample traditional dishes like lamb, leeks, and Cawl – the "all-in-one" stew. And let's not forget that unusual seaweed, Laverbread (yes, it does look a bit like a combination between tar and peat moss – don't worry, it's supposed to look that way).
Many Welsh menus will feature the delicate Caerphilly cheese, a treat not to be missed. And at wayside teashops you might even be served Welsh cakes – spicy little pancakes, baked on a griddle and served with lashings of butter. (Isn't everything better with butter?)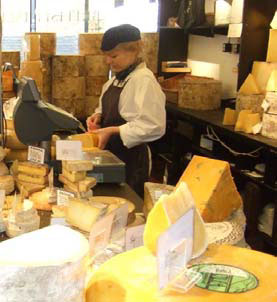 Speaking of cheeses like Caerphilly, Britain and Ireland are renowned for their mouth-watering cheeses; one of their finest exports! There are approximately 450 types of British cheeses, with 1,200 variations. (That's a lot of cheese! )
Cheeses from the U.K. include
Stilton
Wensleydale
Boncheste
Caerphilly
Cheddar and
many, many others.
For a cheese experience you won't soon forget, the next time you're in London, check out Neal's Yard Dairy (in both Covent Garden and Borough Market). Here you'll be given an opportunity to sample some of the world's most delicious cheeses. Take a peek (or should we say, "sniff" around) this world of cheeses at: www.nealsyarddairy.co.uk
Finally, let's not forget beverages.
Fantastic British and Irish ales and lagers, smooth Scottish whiskies, and yes, even some very fine wines (most of which are imported – although there are British varieties that are quite tasty) are always available to accompany your meal, regardless of your selection.
Whether enjoying tea and scones at a countryside B&B in Killarney, Ireland, fish and chips in a London pub, or Salmon en Croute at a Michelin-starred Edinburgh restaurant, immerse yourself in both the traditional and modern versions of all the delectable offerings within the British Isles.
Scottish Vacation Packages | England Vacation Packages | Wales Vacation Packages | Ireland Vacation Packages | British Isles Vacation Packages