Britain's Top Ten Tea Rooms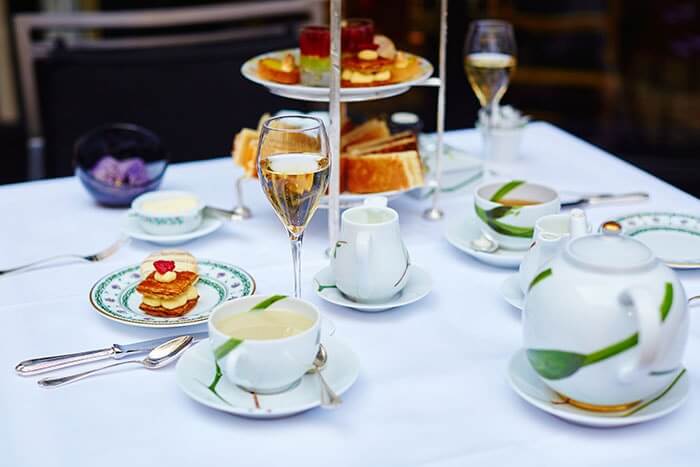 Let's face it – nobody on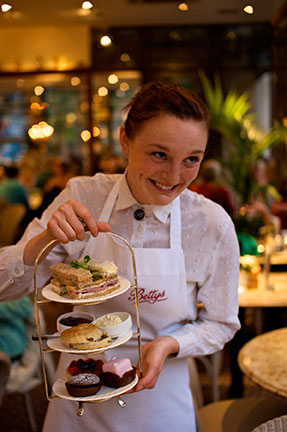 earth "does tea" like the British! After all, this is a population which consumes 165 million cups of it, daily! It is the national drink. And whether you are a Duke or a doorman, a barrister or a barmaid, tea is timeless. (Tea"s antioxidants make it good for you, too!)
A recent poll was conducted by Visit Britain which asked the people of the U.K. where their favorite places were to take tea. Here's what they had to say about Britain's top ten tea rooms. (Listed in no particular order.)
The Wolseley, London
Sitting sedately on grand thoroughfare Piccadilly, The Wolseley was designed as an art deco car showroom in the early 1920s. These days it serves one of the best teas in London in a gorgeous space. Order tea with scones, homemade jam and a selection of pastries in these imposing but surprisingly relaxed surroundings.
The Tea Cosy, Brighton
Swathed in Royal paraphernalia, The Tea Cosy in Brighton brings you a choice of regal teas with names like the "Queen Mother 100th Birthday Memorial Cream Tea". House rules include the prohibition of dunking biscuits and resting elbows on the table. Kitsch, camp and with its tongue firmly in its cheek, The Tea Cosy gives you a fabulous taste of what makes Brighton fun.
Llangoed Hall, Mid Wales
This 17th-century hall deep within the Welsh countryside makes a great setting for afternoon tea. Try the Welsh Tea with traditional Welshcakes or go all out for the Full Afternoon Tea with homemade scones, sandwiches, biscuits, fruitcake and pastries. Llangoed Hall is a classy and historic setting for tea. Champagne is served if you fancy something a little stronger.
Time for Tea, London
Time for Tea is a 1940s-themed tea shop in the East End of London with an immaculately revamped 40s interior with bone china cups, vintage furniture and gently jazzy, retro tunes.
Tchai-Ovna, Glasgow
Tucked down an alley in the leafy West End, Tchai-Ovna is a relaxed hangout with eclectic furnishings and dark, comfy corners. This "magic teashop" serves 80 teas and flavorsome vegetarian food. Order a pot of Darjeeling First Flush, settle back and play board games, read a book or dream away the day in a low-key, Bohemian atmosphere.
Betty's, Harrogate
Opened in 1919 by Swiss confectioner Frederick Belmont, the sense of history at Betty's is matched only by the quality of the tea tasting experience. Select a brew from 50 teas and a bewildering array of cakes, tarts, pastries and sandwiches.
The Balmoral, Edinburgh
Take tea at the supremely elegant at the Balmoral. Waiters in immaculate black, a harp plucking gently in the background, stands festooned with cakes brought to your table – it's tea as it should be. Tea in the Bollinger Bar (the Palm Court) is traditional and very elegant, the perfect way to end a day exploring Edinburgh's historic streets.
Leaf Tea Bar, Liverpool
This "punk" tea bar pairs tea with late-night DJ sets, Wi-Fi and wine in a cool, modern space in an arty Elevator Building. It sells 24 loose-leaf teas and there are also tea tastings, live music and exhibitions. Head to the Leaf Tea Bar, stay all day, and see it morph from relaxed daytime tea house to cool late-night club.
The Rose, Oxford
A sanctuary from Oxford's busy streets, The Rose prides itself on providing the very best. Who could resist a tea called "Phoenix Pearl Dragon"? The Classic Afternoon Tea arrives with organic smoked salmon and cucumber and cream cheese sandwiches followed by homemade scones and cake. Yum!
The Milestone Hotel, London
Afternoon Tea is upheld in its finest form at The Milestone, recently highly commended at the Afternoon Tea Awards, 2016. Served in Chenestons Restaurant, the Park Lounge or the Conservatory, it is a treat in more ways than one – a delicious array of delicate finger sandwiches is accompanied by warm freshly baked scones served with Devonshire clotted cream and home-made preserves, as well as a selection of pastries including éclairs, tartlets, cupcakes and macaroons.
Whether you prefer sumptuous and sophisticated, or humble and homey, always make time for a "cuppa!" And for more information about visiting England, Scotland, Wales and Ireland, give Across the Pond Vacations a call.
Scottish Tour Packages | England Tour Packages | Wales Tour Packages | Ireland Tour Packages | British Tour Packages