Weather & What to Wear in Britain & Ireland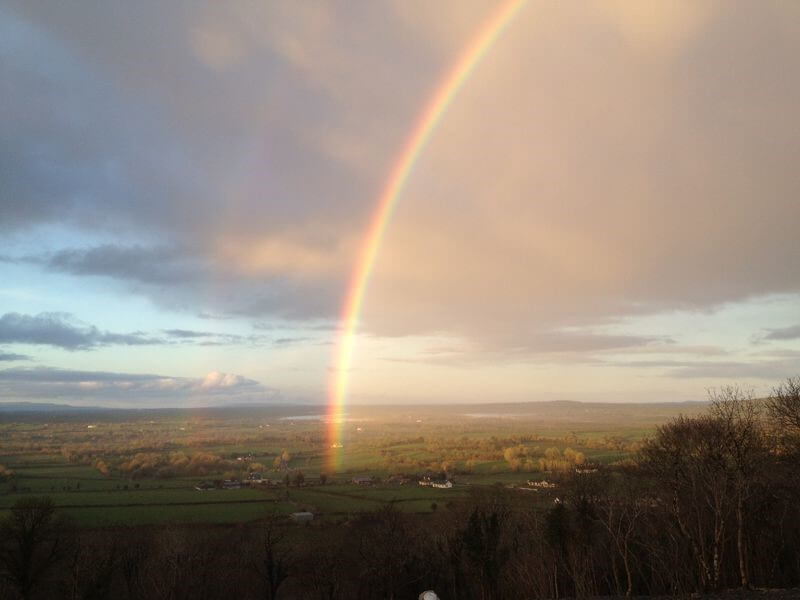 We're often asked about the weather and what to wear on a trip to England, Scotland, Wales, Northern Ireland and/or Ireland.
Great Britain and Ireland have a reputation for clouds and rain, but it is a necessity to maintain the beautiful emerald landscape and gorgeous English gardens. As long as you travel prepared, you will be too busy enjoying your vacation to even notice!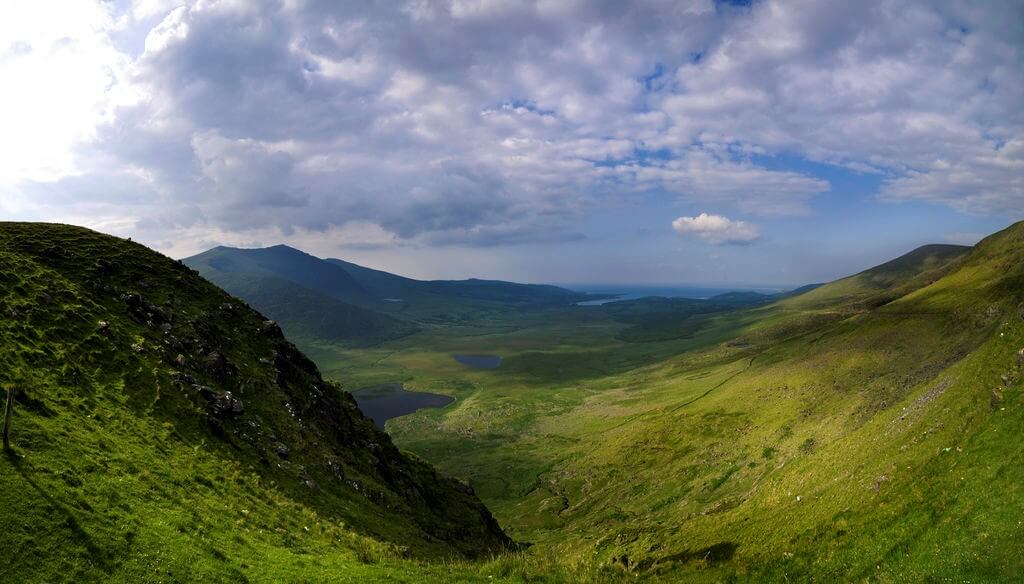 Temperature and What to Wear in the United Kingdom and Ireland
The United Kingdom and Ireland do not have a large variation in temperature from one season to the next. On your vacation, plan on dressing in layers by wearing waterproof shoes, and carry a compact umbrella for the unexpected rain. For a summer trip, pack a versatile sweater or thin jacket that can be layered over anything so that you are ready for the wind, rain, or the cool of the evening. Once again, bring that umbrella! If you are traveling in the winter or along a coastline, we suggest that you take a light or medium weight winter coat, hat, and thin gloves. (We also suggest that you wear your bulkiest outfit on the plane so that it won't be taking up valuable luggage space.)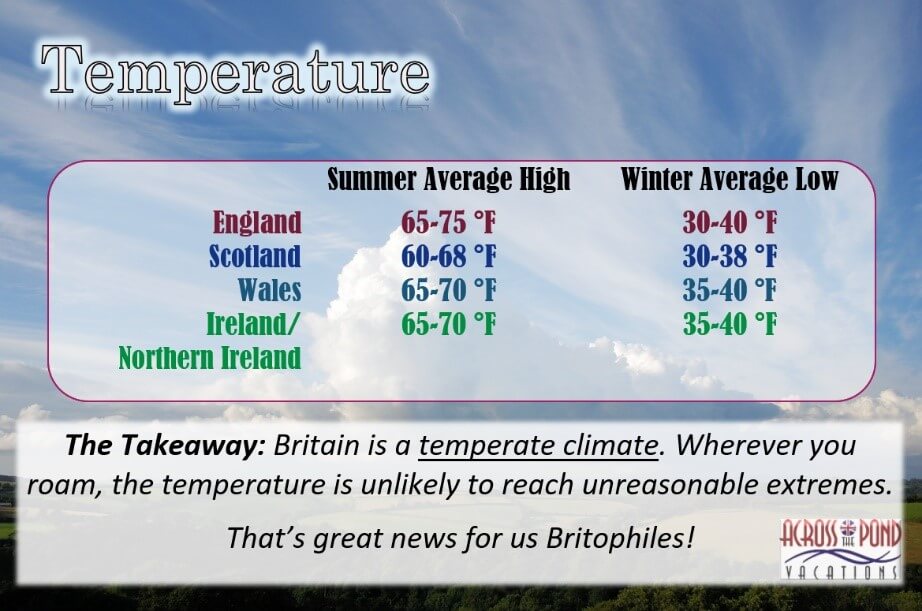 Sunshine or Clouds in Britain and Ireland
What about the famous cloudy skies? If you plan to travel to Britain or Ireland in the summer months, you're likely to see the sun probably for about half of your trip, often peaking from the clouds throughout the day. In the winter season, which lasts from November thru March, you will most likely see a lot of cloudiness, but the occasional beautiful, crisp winter day is often enjoyed. (Good news for photographers as it will make it easier to capture the dramatic landscapes!)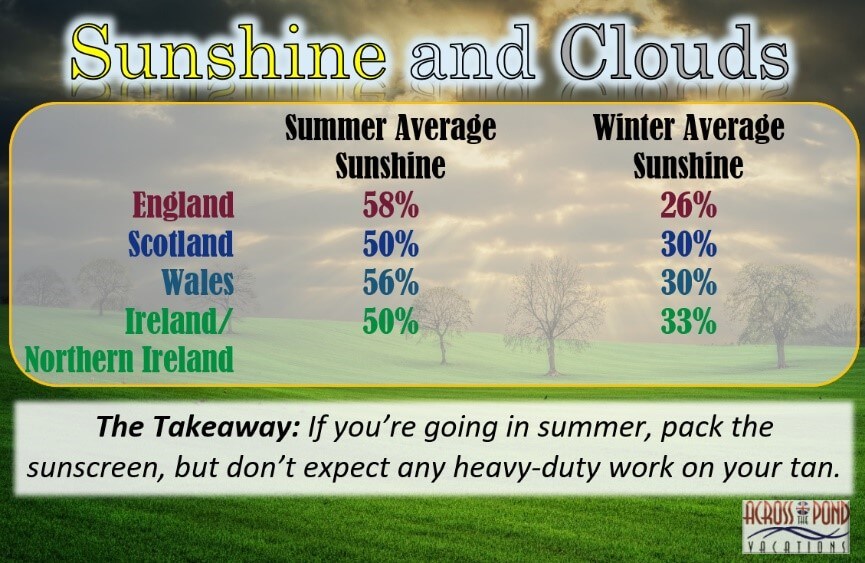 Rain and Snow in Britain and Ireland
It doesn't always rain in Britain and Ireland, but it does rain quite often, particularly in the northern regions of England and Scotland. As the rain can come and go throughout the day, we suggest that you bring a compact umbrella that is easy to carry, as well as waterproof shoes and an outer layer. In winter you will see some snow, more typically in higher elevations, but usually not dramatic amounts, neither will it stay around for too long.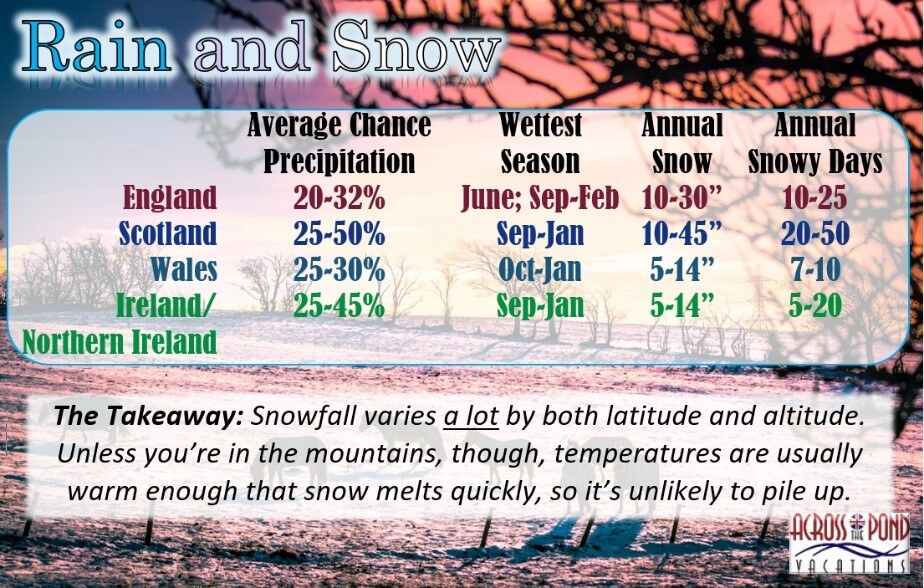 What to Pack for a Trip to the United Kingdom or Ireland
Overall, the weather in England, Scotland, Wales, Northern Ireland and Ireland can change throughout the day, from sunny and warm to cooler with rain. Pack a sweater or thin jacket, umbrella, waterproof shoes, and waterproof coat to be ready for the bulk of what Mother Nature will throw at you. Always bring an umbrella. And don't forget a camera as the weather can create some unforgettable beauty in the landscapes.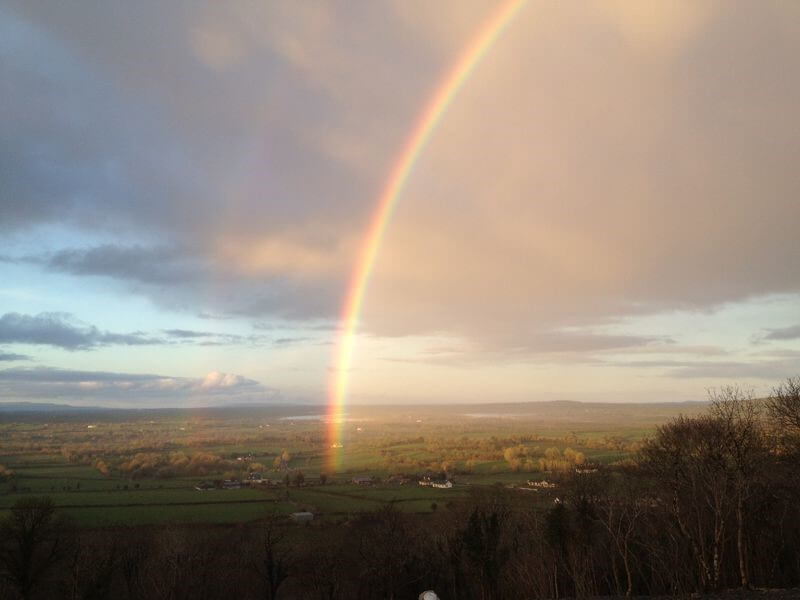 If you would like to visit England, Wales, Scotland, Northern Ireland or Ireland, we would love to design you a personalized luxury vacation package. Call us at 310-791-6101 to speak with one of our Destination Experts or request a quote online. We look forward to tailoring your next incredible vacation!