Welsh Rarebit Recipe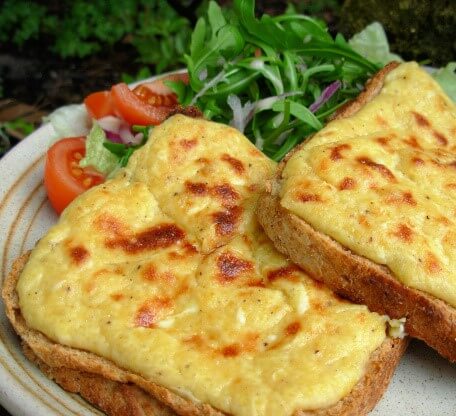 Happy Welsh Rarebit Day! Use this easy recipe to celebrate with your own Welsh Rarebit. Enjoyed sporadically throughout Wales, this traditional Welsh dish is more than just "cheese on toast." The name, Welsh Rarebit, is believed to come from the term "Welsh rabbit." However, no bunnies need be harmed in the making of this simple, yet very tasty, meal.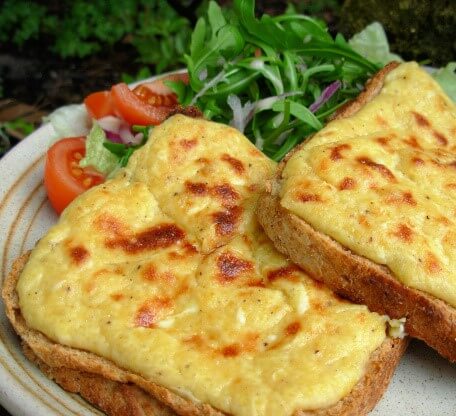 Welsh Rarebit
Originally known as Welsh Rabbit (the name is still often used) this dish does not contain rabbit at all. Rather, it is a cheese sauce on bread. The origin of the name and dish vary, so we will just tell you how to make it.
Ingredients:
2 oz flour
2 oz butter
9 oz strong beer or ale, warmed
9 oz strong cheddar, grated
2 tsp English mustard
2 Tbsp Worcestershire sauce
Black pepper
4 large slices bread
Directions:
In a small saucepan melt the butter and make a roux with the flour. Cook for a couple of minutes, stirring to prevent the roux from burning. Stir in the warm beer until you have a thick but smooth sauce. Add the grated cheese and stir until melted. You should now have a thick paste. Mix in the mustard and Worcestershire sauce and season well with black pepper. Lightly toast and butter the bread, then pile up the cheesy mixture on each slice. Cook under a hot grill for a few minutes, until browned and bubbling. Enjoy!
If you are interested in a trip to Wales, Scotland, England, Northern Ireland or Ireland, we would love to plan your customized vacation. To get started, complete this questionnaire and one of our Destination Specialists will contact you to design your personalized itinerary.